Some secrets can never be told.
Odette's Secrets is a very touching and inspiring book about young jewish Odette in Nazi occupied France. She is sent away to the French country side when her father, who is a soldier, is thrown into a work camp and her mother is suspected of helping the Resistance. Odette lives the life of a normal Christian girl. But when the war ends and Odette and her mother return to Paris, will she return as Odette the Jew or Odette the Christian?
Here's what GOODREADS has to say about Odette's Secrets;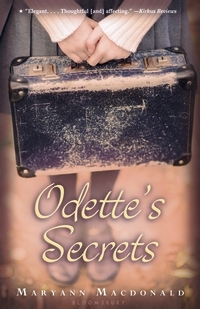 For Jews in Nazi-occupied Paris, nowhere is safe. So when Odette Meyer's father is sent to a Nazi work camp, Odette's mother takes desperate measures to protect her, sending Odette deep into the French countryside. There, Odette pretends to be a peasant girl, even posing as a Christian–and attending Catholic masses–with other children. But inside, she is burning with secrets, and when the war ends Odette must figure out whether she can resume life in Paris as a Jew, or if she's lost the connection to her former life forever. Inspired by the life of the real Odette Meyer, this moving free-verse novel is a story of triumph over adversity.
I loved this book because of all the twists in the plot and all of the different settings in Nazi-Occupied France. People who love stories that really touch your heart should read this book.