The Anne Of Green Gables Series is, AMAZING! It… it…. it's an amazing demonstration of what life was like in a tiny village on Prince Edward Island for a girl with an imagination, a brain that works for math and science and art, not just for housekeeping, in the 1800's. Anne is an incredible character to connect to as well as to relate to. Lucy Maud Montgomery wrote Anne as a person, not just a character, that will surprise you after reading the entire series twice.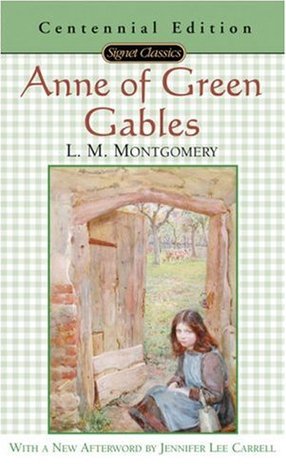 ANNE OF GREEN GABLES
The first book in this series is about Anne when she first comes to Green Gables. Brother and sister, Matthew and Marilla Cuthbert, want to adopt a child to help Matthew, who is 60, on the Green Gables farm. They ask Mrs. Spencer, who is going to Nova Scotia to adopt a child as well, to get them a boy of around 11. But when Mrs. Spencer brings back spunky, freckled,  red-headed Anne, the Cuthbert's don't know what to do. After just one drive with Anne Matthew loves her. Marilla is less keen to keep her but after 2 days with her, she loves her as well.
ANNE OF AVONLEA
After one year at Queen's teacher's school red-headed Anne is back. She's 16 now and ready to take on teaching at Avonlea school. The trouble that awaits her she is not prepared for but she, being Anne will overcome it. After meeting P
aul Irving, the dreamlike boy that is a marvellous student, Miss Lavender whose sad love story might just get fixed if Anne has anything to do with it, and cranky old Mr. Harrison, who has an opinion of his own, Anne's life will most definitely get interesting.
ANNE OF THE ISLAND  
Anne has taught for 2 years at Avonlea school, and she is ready to go to college. Redmond college is where she'll be along with Charlie Sloane, the boy who is and always will be "A Sloane", Pricilla Grant her lovable friend from Queens, and Gillbert Blythe who will love her to the ends of the earth. More adventures await when she meets Philippa Gordon, the rich girl with many a beau, and Roy Gardner who seems like Anne's ideal man.
I hope you guys like this review, and I will post probably 2 more reviews of this series, Next week. Bye! 🙂