Love, Aubrey is about a girl, Aubrey, whose sister and father die and her mother leaves. Her grandma comes and takes her to Vermont from Virginia when she realizes Aubrey's mother has left. When she reaches Vermont she meets Bridget and her family. Her grandma's neighbours. Bridget soon becomes Aubrey's best friend, but when Aubrey's mother is found, she has to make a choice.
Here's what Goodreads has to say;
"I had everything I needed to run a household: a house, food, and a new family. From now on it would just be me and Sammy–the two of us, and no one else."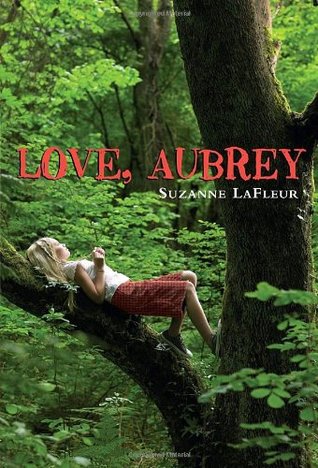 A tragic accident has turned eleven-year-old Aubrey's world upside down. Starting a new life all alone, Aubrey has everything she thinks she needs: SpaghettiOs and Sammy, her new pet fish. She cannot talk about what happened to her. Writing letters is the only thing that feels right to Aubrey, even if no one ever reads them.
With the aid of her loving grandmother and new friends, Aubrey learns that she is not alone, and gradually, she finds the words to express feelings that once seemed impossible to describe. The healing powers of friendship, love, and memory help Aubrey take her first steps toward the future.
Readers will care for Aubrey from page one and will watch her grow until the very end, when she has to make one of the biggest decisions of her life.
Love, Aubrey is devastating, brave, honest, funny, and hopeful, and it introduces a remarkable new writer, Suzanne LaFleur. No matter how old you are, this book is not to be missed.
This book is great because it shows that even is something tragic happens to you, you can heal with friendship and love.